Please join us for a brief journey through our history. You'll find that for every landmark achievement, groundbreaking invention, and major turning point, you have been with us every step of the way. Click here to see our timeline!
Thank You for Choosing Hopkins Medical Products Since 1945
From humble beginnings as a public health nurse uniform provider to the leading home healthcare equipment and supply innovator in the world, Hopkins Medical Products never would have achieved its level of success without your business and support.
On this anniversary, we would like extend our gratitude to the nurses and other home healthcare professionals who have given us purpose. Their knowledge, dedication, and hearts continue to inspire and guide every decision we make.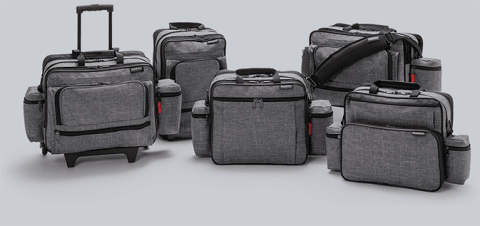 Nowhere is this more evident than in the development of our Antimicrobial Med Bag line. In 2018, we added a layer of protection to our world-famous med bags. By featuring Microban®, the opportunity for bacteria to grow on bags is reduced, giving home healthcare professionals additional peace of mind in the field.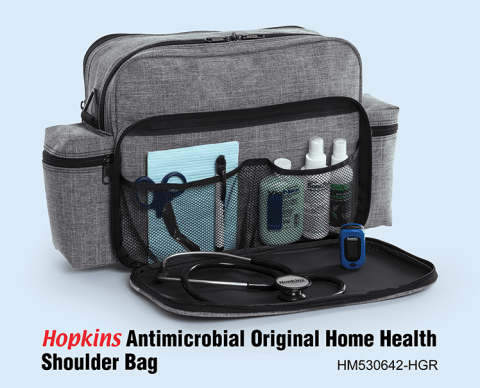 To celebrate this milestone, we're offering a limited-edition antimicrobial version of our most popular bag – the Hopkins Original Home Health Shoulder Bag. You will find all the features you know and love in a stylish heather gray with an additional Microban safeguard for home healthcare visits and infection control procedures.
Same-day shipping, customized kitting, and personalized bag printing are just some of the other unique services we provide to exceed our customers' expectations and revolutionize what it means to be a home healthcare supply leader.
Once again, thank you for your tireless commitment to excellent patient care and for trusting us with all the essentials you use to provide it. Oh, and we're not done celebrating you yet! Be sure to subscribe to our emails and check out the offers we have in store for our official anniversary kickoff in January. Sign up below!